Happy employees lead to happy customers.
At least, that's the philosophy at Graphics Output. We believe in our staff and encourage and reward them for a job well done. We have an upbeat, caring company culture, which leads to employees with a sense of personal responsibility. We're no strangers to fun and especially love to demonstrate our creativity, light-heartedness, and commitment to excellence through our office decór.
Everyone who steps into our building is met with rainbow, geometric designs. The wall just inside our front door literally greets guests with "What's up?" "Glad you could drop by!" "Howdy!" and "Make yourself at home."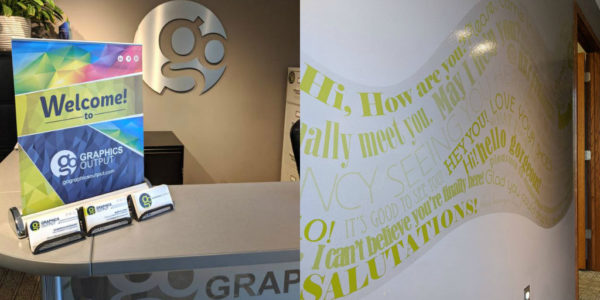 The front office graphics at Graphics Output use quirky energy to welcome visitors.
Our break area boasts more custom art, including small, colorful reminders to clock in and out and an 8-by-4-foot wall hanging. It's decorated with print-industry terms and has space to both keep track of important dates and play games of tic-tac-toe.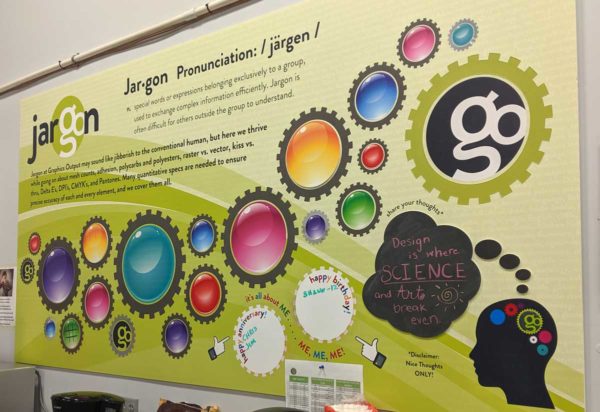 Employee birthdays and anniversaries are written on dry-erase, laminated sections of this break room sign.
"The brightly colored decorations and informational posters around the building really match the mood and attitudes of the employees," says Sandra Fouty, a marketing strategist who has worked at Graphics Output for several years. "The employees have a great can-do attitude that overflows with optimism."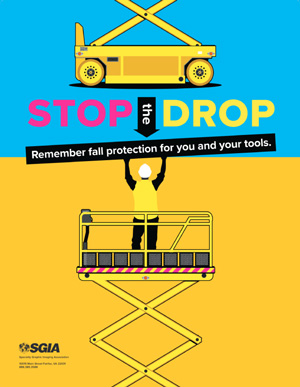 To create these posters, the sales, quality control, and marketing teams identified key areas for process improvement. For example, we knew we wanted to remind the production staff to "first off," which is when a fellow employee inspects and signs off on each step of the print run, a vital step to prevent reruns due to errors. This reminder became the "Don't forget to first off" poster.
At left, a first off reminder poster. At right, a quality control employee inspects the first batch of a printed part.
After the teams selected which critical quality control areas to focus on, they drafted witty slogans and handed their work to the art department for design.
We printed the posters in-house on a wide-format digital roll press, and we hung each poster in 22-by-28-inch Black Trappa Poster Snap Frames. The frames protect the posters and give them a professional look, and they give us the flexibility to change out the designs.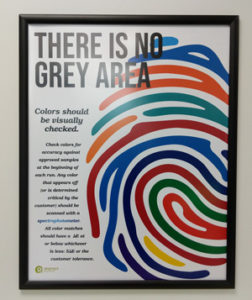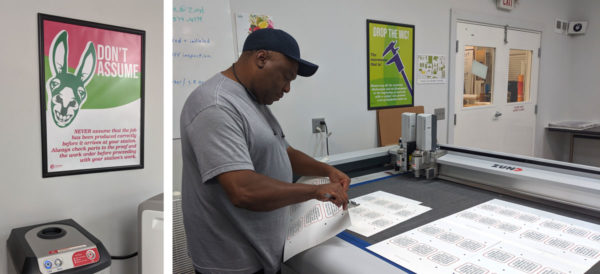 The posters around the production floor remind employees of important quality control steps.
A favorite poster shows employee my face superimposed over the Mona Lisa, urging employees to "Treat each job as a masterpiece." It's always a great talking point for customers, and it's a fun image for our employees.
"I absolutely love the posters and signage around the shop," says Mike Gerbers, a digital flatbed technician, who works right next to the Mona Lisa poster. "Rather than having boring reminders in bold text taped all around, Graphics Output uses fun imagery, clever phrases, and bright colors. I'm a very visual person, and these posters are helpful in reminding me about quality control."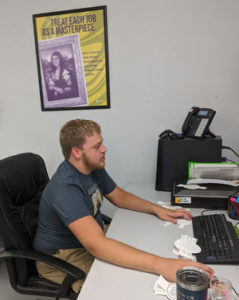 Atmosphere can play a huge role in fostering a happy, creative company culture, and we'd love to help you put together some custom posters for your offices and/or warehouses. Feel free to email us, reach out online, or call 260-748-0577. Find our full range of print and production offerings online.
To get you started, we have free* downloadable posters in JPG format.
*Printables not for commercial use.