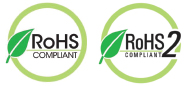 Graphics Output (GO) complies with all rules and regulations set forth by the European Union (EU) Restriction of Hazardous Substances (RoHS) Directive that took effect July 1, 2006. As a company not manufacturing any base materials, we confirm RoHS compliance via our supply chain partners. We continually work with our suppliers to ensure that all requirements are met and that they remain in full compliance with current and future RoHS requirements. As stated in the Directive, GO products (including shipping and packaging materials) do not exceed the maximum allowable concentration limit of 0.1% by weight in homogeneous materials for lead, mercury, hexavalent chromium, polybrominated biphenyls (PBB) and polybrominated diphenyl ethers (PBDE) and of 0.01% by weight for Cadmium. None of our materials are typically analyzed for content, relying on the material suppliers for Certifications and available MSDS. GO continually works with our suppliers to ensure that our materials continue to meet RoHS compliance standards.
In 2011, RoHS 2 (EU Directive 2011/65) expanded the directive to include all electrical and electronic equipment and updated RoHS compliance to be an integral part of the requirement for CE-marking of products.
In 2021, RoHS 3 (EU Directive 2015/863) will add a new category and will ban all phthalates. Unless more changes are made, this directive is already covered under REACH compliancy.
Graphics Output provides graphics and supply chain solutions for a variety of industries: petroleum, electronics, RV/ORV, healthcare, agricultural, food service. Their specialties are just as wide-reaching, covering engineering for durable grade product markings, graphic applications for harsh environments, and production assembly needs fulfillment.