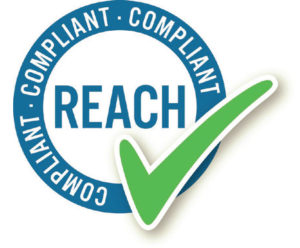 Graphics Output (GO) complies with the safe use and identification of chemicals per the applicable requirements of the EU Regulation (EC) No. 1907/2006, which is known as REACH (Registration, Evaluation, Authorization and Restriction of Chemicals). REACH requires article (product) suppliers to inform recipients if an article contains a Substance of Very High Concern (SVHC) in excess of 0.1% by weight. As a company not manufacturing any base materials, we confirm REACH compliance via our supply chain partners. As stated in the Directive, GO products (including shipping and packaging materials) do not contain any levels of SVHCs in excess of 0.1% by weight. None of our materials are typically analyzed for content, relying on the material suppliers for Certifications and available MSDS. We continually work with our suppliers to ensure that all requirements are met and that they remain in full compliance with current and future REACH requirements. No SVHC substances are knowingly used or intentionally added during the manufacturing processes.
In June 2019, the EU published an updated list of the candidate 197 SVHC chemicals, which can be found at this link: https://echa.europa.eu/web/guest/candidate-list-table
Graphics Output provides graphics and supply chain solutions for a variety of industries: petroleum, electronics, RV/ORV, healthcare, agricultural, food service. Their specialties are just as wide-reaching, covering engineering for durable grade product markings, graphic applications for harsh environments, and production assembly needs fulfillment.