Maximizing "Wall Estate"
If you've been to Ivy Tech Community College in Fort Wayne, Indiana, surely you would have noticed the diversity among the students – age, ability, race and experience. But the buildings where students spend hours upon hours each week didn't reflect the students who walked the halls daily. The walls were large, sterile and uninspired.
Ivy Tech "wall estate" was first envisioned after a visiting campus experience professional came to Fort Wayne for employee professional development. During his campus tour, he highlighted several institutional and unengaging spaces throughout the student service areas. Andrew Welch, executive director of marketing and communications at Ivy Tech, wanted a partner who could not only help design the art for these massive spaces, but a partner to print and install the graphics on various surfaces. After some brainstorming and acquiring special funding, Ivy Tech chose to work with Graphics Output to bring the ideas to a concept phase visually.
"We chose Graphics Output for this project (and others) because of their high level of customer service, affordable pricing, as well as creative approach. Todd and Sharon are amazing people!"
– Andrew Welch, Ivy Tech executive director of  marketing and communications
Todd Barhydt, Graphic Output's creative director, met with Welch to explore the spaces, take measurements and develop artistic ideas. Within a short amount of time, Barhydt was able to provide realistic mock-ups of the spaces with refreshing new art. "The process was exciting and engaging for our team as we worked with Todd, and we actually were able to use several elements from all of the concepts at our many campus facilities," Welch said.

Art created for space above vending machines. 
Ivy Tech chose to refresh at least one area in each of their facilities on the Coliseum and North campuses. The projects were spread out over about a one-year period. Since then, they have been able to execute smaller projects to help beautify campus spaces and to improve the student experience.
The new art is vibrant, uplifting and diverse – just like the Ivy Tech students. Barhydt said he drew inspiration from "the honest passion that the Ivy Tech team has for developing students."
This wasn't a one-substrate-fits-all project. Careful planning, creative thinking and material knowledge helped the walls of Ivy Tech to come alive with personality and energy. Take a look at some of the results below.
If you have "wall estate" that needs sprucing up, follow these simple steps:
Brainstorm with stakeholders and employees about the message you want to present and THINK BIG
Come up with ideas and a vision and document it
Present your ideas and needs to a reputable company. Expect questions about life expectancy, material options, removability, etc.
Request three design directions based off your brainstorming sessions. This will help guide the designer and streamline the process down the road
Once the design is chosen, sit back and enjoy the transformation from stagnant to spirited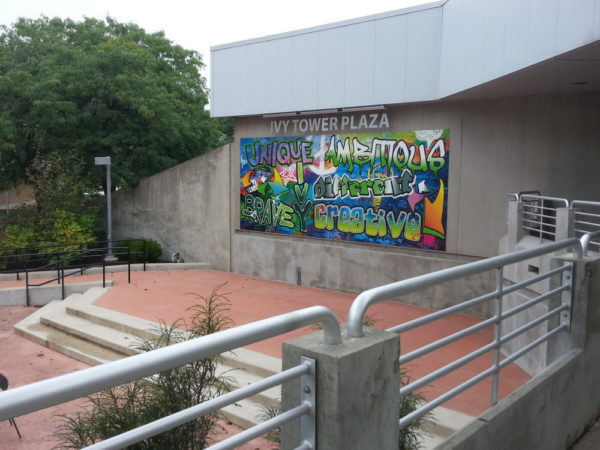 TECHNOLOGY CENTER SECURITY DESK BEFORE AND AFTER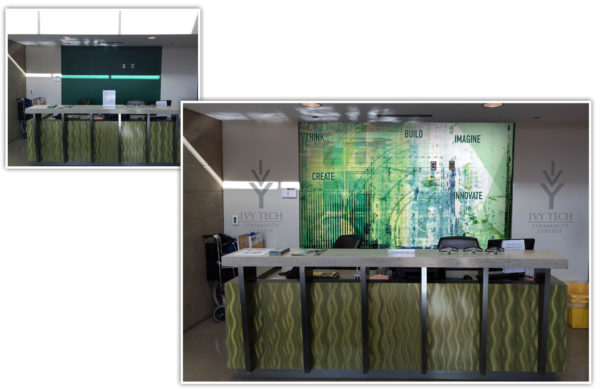 COLISEUM CAMPUS BANQUET AND CONFERENCE ROOM BEFORE AND AFTER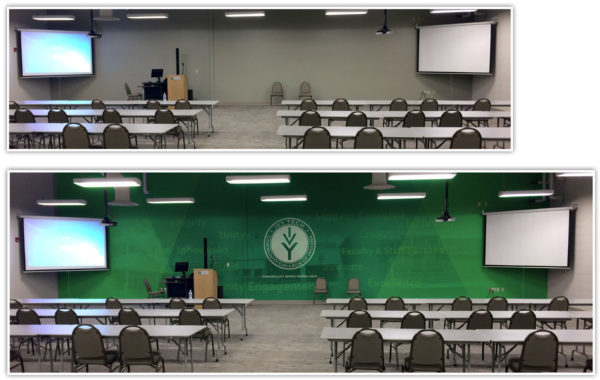 HARSHMAN HALL ADVISING ENTRANCE BEFORE AND AFTER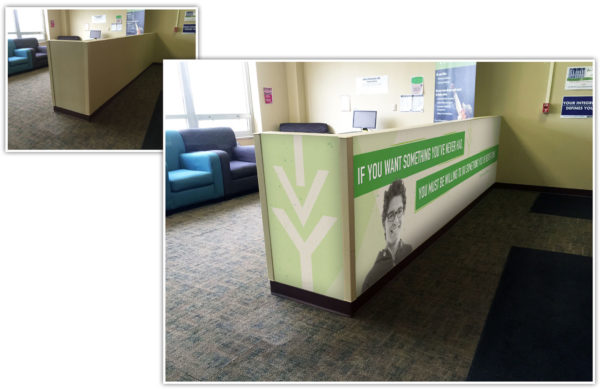 COLISEUM CAMPUS, ANTHONY COMMONS BEFORE AND AFTER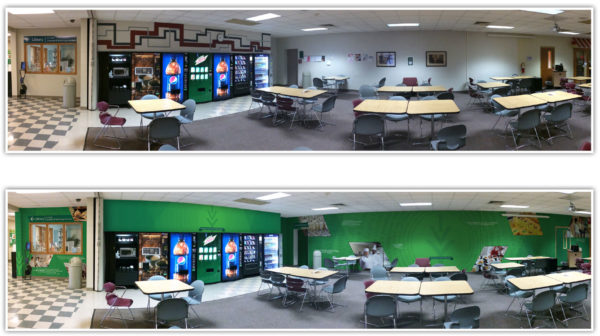 STUDENT LIFE CENTER BEFORE AND AFTER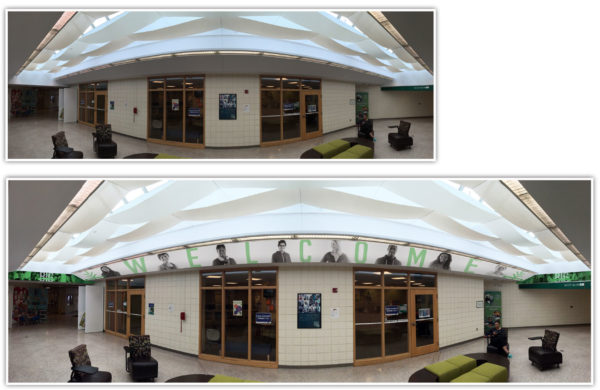 Collaborative Effort Yields Award for Art
Annually, the American Advertising Federation hosts the Fort Wayne Advertising Honors, where companies, individuals, and students are invited to compete with their best work from the previous year. It's a night full of honoring local members backed by tradition and prestige.
Ivy Tech won a silver award for their exceptional "Wall Estate" project that was executed with the assistance of Graphics Output.
Interested in seeing the art in person? The new and improved spaces can be found here:
Student Life Center: entrance, Ivy Plaza, foyer, offices, and commons and the Express
Enrollment Center
Harshman Hall: advising entrance
Technology Center: entrance and main hallway
Anthony Commons, the Healthy Essence massage clinic, room 1640