Many often wonder what the difference between screen printing and digital printing is. The biggest difference is that screen printing is done one color at a time, while digital presses usually produce a full 4-color process print in one pass. We're here today to spell out the basics of each method and their points of differentiation, so you can make the right choice for your next printing project.
Screen Printing Basics
Screen printing, also referred to as silk screening, has been around since as early as 500 AD and originated in Asia. The basic premise of screen printing is that a stencil is created on a fine mesh screen (a tight, thin layer of polyester or silk) and ink is pushed through the open areas of the stencil onto the surface below. This process is repeated using more screens (stencils), each screen using a different design and color until the final image is complete. The printed material is then ran under UV lights to cure the ink immediately.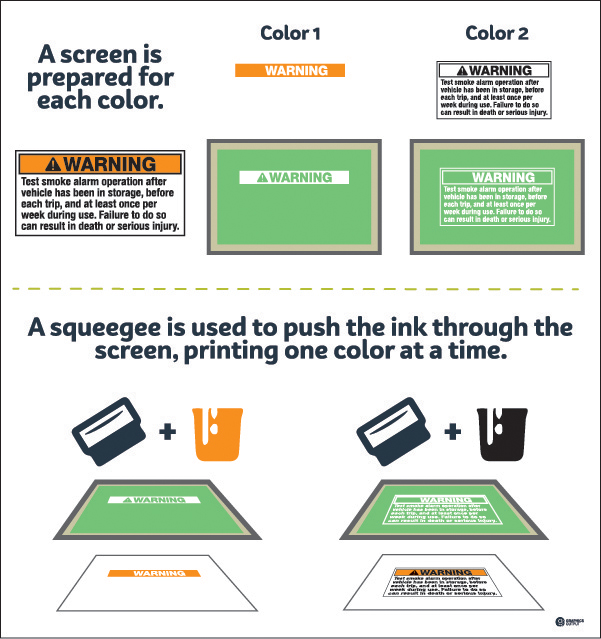 Digital Printing Basics
Where screen printing is a very manual process, digital printing uses a computer and digital files to map and place small drops of ink that, when combined, create the desired image.
Digital printing can be separated into two main types – roll printing and flatbed printing.
Both types can utilize a UV light to cure ink, similar to screen printing, but they don't always. Instead, some digital presses use solvent printing or inkjet printing, both a bit more similar to your home printer. Either way, the processes themselves are quite different. Roll printing is usually solvent-based, and it uses rolls of flexible vinyl as the base material. Roll printers often do not have the ability to print white ink, although that is continuing to change as technology advances.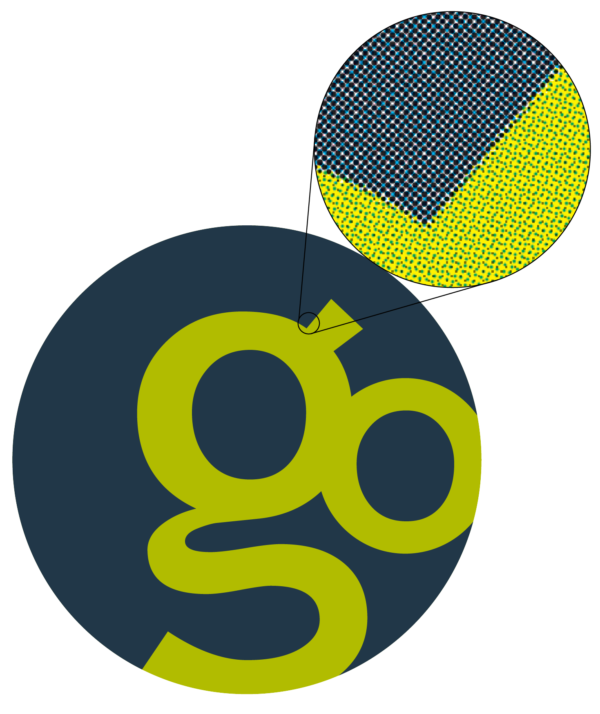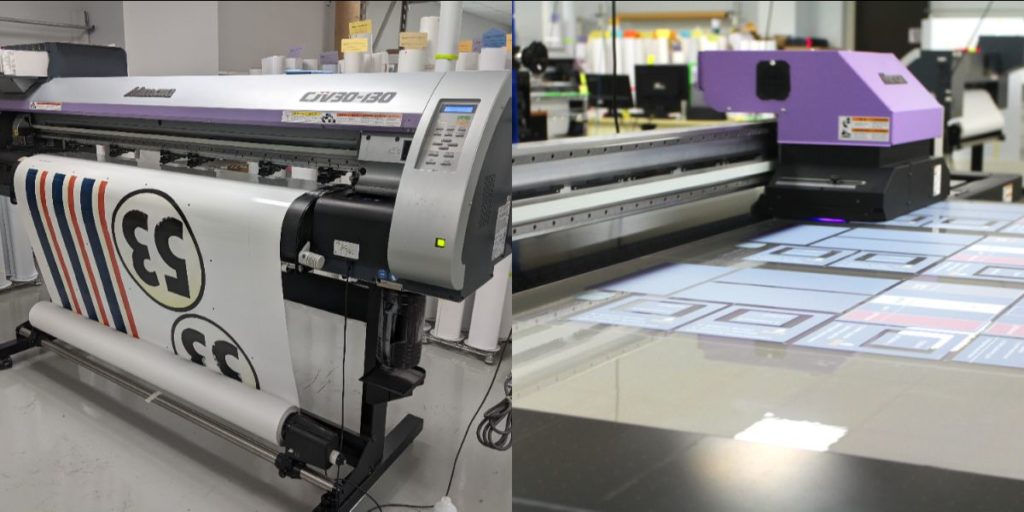 Left: Mimaki digital roll solvent printer      Right: Mimaki digital flatbed UV printer
Flatbed printers can print on flexible vinyl just like roll printers, but have the extra ability to print on flexible polyester and various rigid surfaces, such as polycarbonate, hard-coated polyester, PVC, and even directly onto products. In addition to being more versatile for substrates, flatbed presses also have higher color gamuts, meaning they can hit a larger array of colors, and they usually include the capability to print white ink. Today's digital UV printing can even rival screen-printed parts in both color and durability.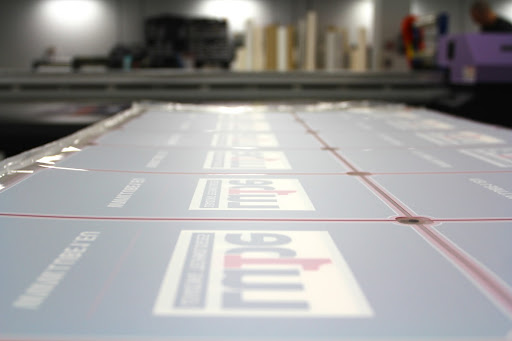 Subsurface printed digital flatbed parts, backed with white ink.
Main Points of Differentiation
Set-Up Time & Fees
With the screen print method, each screen must be created and set-up before printing, torn down after printing, and films (stencils) and other tooling are required. Screen printing adds one-time fees and high set-up costs that are not present with a digital job.
Quantity
When set-up costs are divided out over a large quantity, screen printing starts to make sense. The prints completed per hour is vastly faster with screen print than with digital, so high quantities will be much cheaper, even when set-up costs are factored in.
On the other hand, low quantity jobs will be much cheaper when ran digitally, as the set-up fees are low or non-existent.
Color Payoff
When color is critical, screen printing is usually the better option over digital. Because digital presses use a CMYK four-color process, their color ranges are inherently limited. Screen printing ink utilizes spot colors, just like the Pantone Matching System (PMS). The difference means that digital presses cannot hit some of the brighter colors that screen printing can, especially reds, oranges, greys, and greens. Banding, which is the subtle transition between one digital print head and the next, may be visible in digital prints if high enough quality equipment is not used. Metallic and fluorescent colors are usually only achievable with screen printing, although many strides have been made in the past few years of digital printing to make these colors more accessible. Lastly, all colors tend to be more vibrant when screen printed, because the ink is a solid color throughout and a thicker layer of ink is deposited onto the material.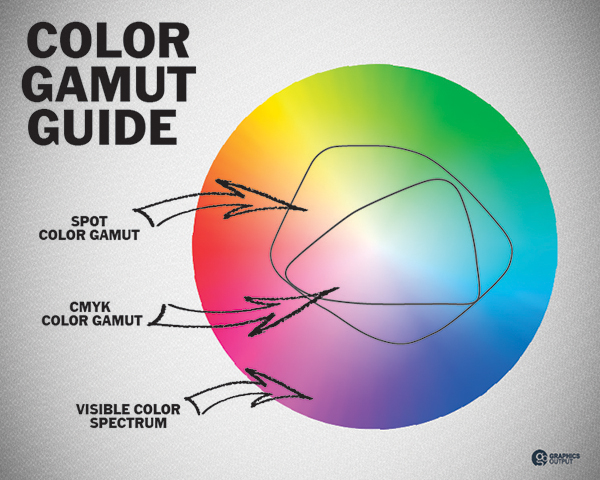 Print Complexity
Because screen-printed parts are done one color at a time, the number of colors affects the price for screen print, while digital pricing is the same no matter how many colors are present. Screenprinting simple images almost always results in crisp lines (without the possibility of pixelation), but more complex prints are usually better suited for digital printing. Gradients and finely detailed images, even photographs, are easily printed with digital presses. Screen printed parts can still incorporate simple gradients with the use of half-tones (reduced dots of ink and blank space are used to simulate fades), but the resolution is noticeably lower quality. Digital presses also allow for mass customization and variable data, such as sequential numbering and varying backgrounds, colors or text within the same run.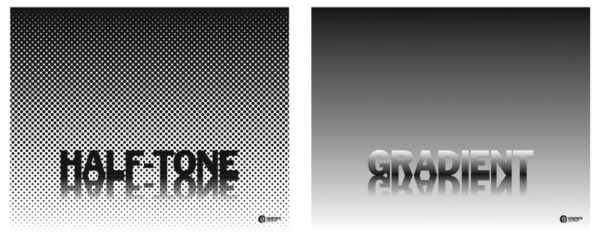 Adhesion & Durability
Screen printing ink has a history of adhering to a larger variety of surfaces (direct to glass, aluminum, etc.), although digital ink has come a long way, and different series of digital inks can now be used to adhere to different substrates. Still, digital material itself may be more expensive than the same material used in screen printing, because many printers order special ink adhesion coatings to ensure the digital ink sticks. Screen print ink is also more durable and weather-resistant than digital ink, especially when compared to ink from standard roll presses. To further protect images, a screen printed UV-resistant clear coat can be added to parts, while a clear digital top coating is not often available.
Screen Print vs Digital Print Comparison
| | | |
| --- | --- | --- |
| | Screen Print | Digital |
| Fast Turnaround | | X |
| No Setup Fees | | X |
| Small Quantity | | X |
| Large Quantity | X | |
| Critical Color Match | X | |
| Metallic or Fluorescent | X | |
| Complex Image or Gradient | | X |
| Ink Adhesion & Durability | X | |
| Additional UV Resistance | X | |
Overall, screen printing is best for high quantity, high durability, low number-of-color runs, while digital printing is better suited for lower quantity and more complex images. Your graphics supplier should know from your job specifications which type of printing is right for you, and if you could benefit from a combination of both screen and digital printing. If you want more information on a certain process, are curious how your current decals are made, or are interested in switching from one process to the other, feel free to reach out by email, web, or call 260-748-0577.