We have a lot of hometown pride at Graphics Output. Not only are we the official printer for the Komets Hockey Team and Indiana Beach, we're on the board of the New Haven Chamber of Commerce, and we love working with the people in and around Fort Wayne. So many local northeast Indiana businesses are already taking advantage of Graphics Output and our vast array of printing capabilities.
Our customers always come up with innovative marketing projects, and those ideas continue to inspire both Graphics Output and the community. Here are some of our favorite ideas for your business.
1. The VIP Treatment
Parking Passes, Membership Cards, and Club Cards
Give your customers an air of exclusivity with a new pass or membership card to your business. A good loyalty program is a great way to optimize your regular customers' patronage, keeping them coming back.

2. Don't Be Afraid to be Clingy
Window Clings
The world of window clings is much more versatile than you would think and are an easy, non-committal way for customers and employees to rep your brand. While standard removable static clings are always available, consider clear or opaque vinyl, which give your window decals a little extra staying power and come in removable or permanent.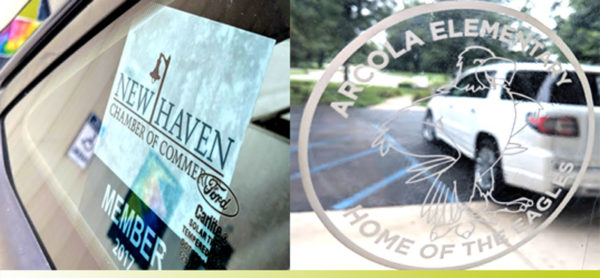 3. Wall Estate
Office Overhauls
Does the inside of your office or store already exude your brand, leaving customers and employees saying, "Wow! This place looks awesome"? Unfortunately, that is not the case for most companies. Empty "wall estate" is a great starting spot to transform your space into something inspiring that truly reflects your brand.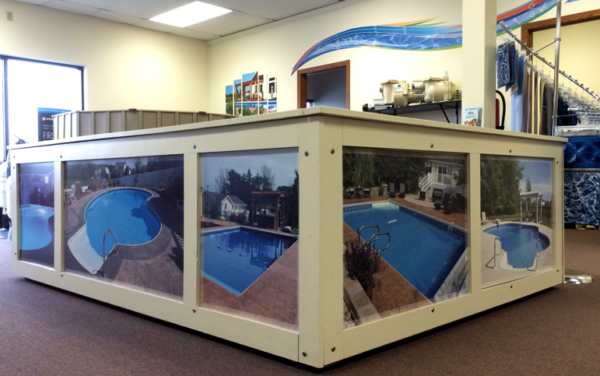 4. Swag
Branded Merch
If you can dream it, Graphics Output can print it. Get your name and logo nearly everything. Sure, we can print bumper stickers, pens, and koozies, but have you considered front license plates, poker chips, or hockey pucks?

Graphics Output sunglasses and Komets commemorative hockey pucks
5. Visual Retailing
Promotional & POS Signage
Point-of-Sale signage (commonly referred to as POS) can attract your customers' attention and convert them to buyers at the direct point of sale (hence the name). Not having these promotional signs could result in lost sales at the register. And lucky you, these pieces can also double as exhibition or trade show signage.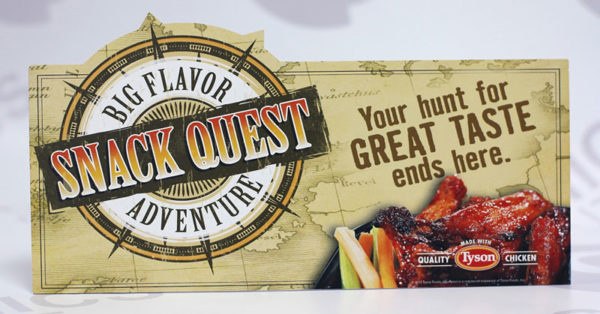 6. Stay on Track
Variable data codes
Use variable data codes such as barcodes and QR codes for company inventory purposes or to track the usage rates of codes to find the success of your campaigns.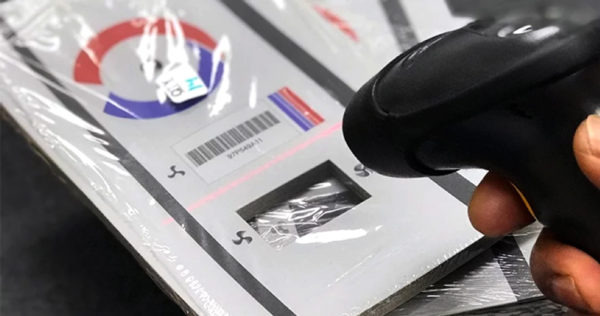 7. That's a wrap!
Food truck wraps
You may be a food truck veteran, a chef just getting started, or an established restaurant owner who wants to take her cuisine on the road. No matter what milestone you're at in the food truck business, a good wrap can make or break sales. Graphics Output helped design multiple food truck wraps, but our work with iGrandma's was recognized nationally when we took third place in Mobile Cuisine's 2018 Best Food Truck Graphic Design competition.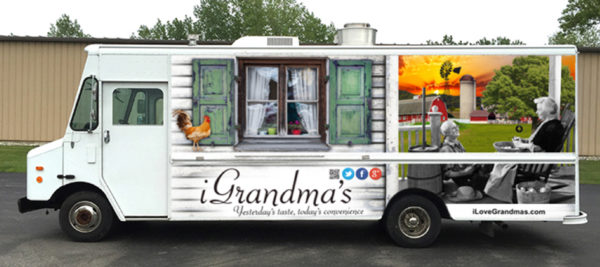 8. (Lo)Go the Extra Mile
Custom labels and packaging
Custom branded packages show your customers how dedicated you are to their success. These packages keep your name and logo in front of your customers and potential customers, another great marketing strategy.
9. Leave a Lasting Impression
Creative business cards
Your business card should reflect you and your company, and a creative, interesting design can be memorable, which is the next step to gaining a new customer. Why take the chance that your current, average-joe card is up to the task?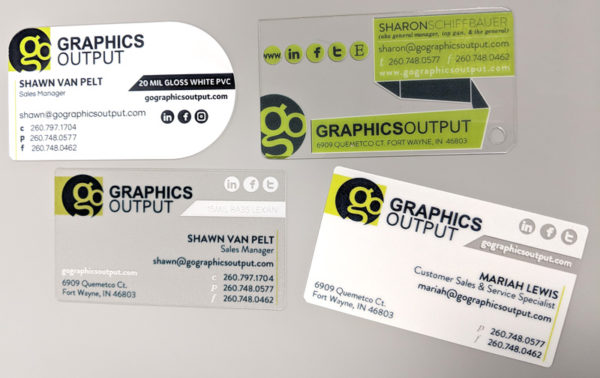 Unusual shapes or materials can make your business cards memorable
10. Think Big
Large-scale Signage
Large-scale signage is an easy way to make a huge impact. Whether you go for a life-size cutout of your company mascot or a simple, giant banner, these products can leave a lasting impression. (PRO TIP: Be sure to measure your space accurately.)