Digital thermal printing is an ideal solution for printing small labels and parts with just a few colors—especially if you need the job finished as soon as possible.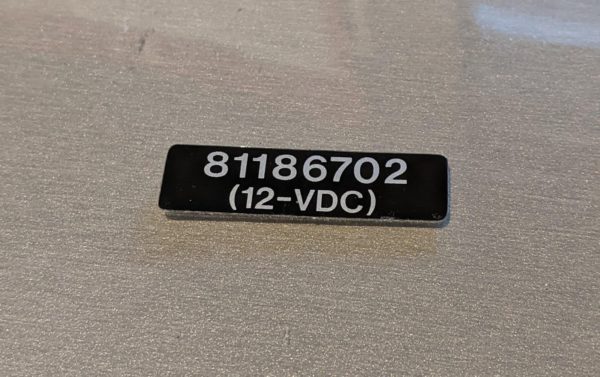 Consider the part above. It's less than 2 inches wide and has two colors, one of which is metallic silver. That means traditional digital printing is likely out of the question as most digital solvent and digital UV inks are not available in metallic colors. The only option besides digital thermal printing in a typical print shop would be screen printing, but that process has high set-up fees and lead times, which are not ideal for such a small part.
Instead of using ink, digital thermal printing relies on resin-based spot color foils that are fused onto material substrates through heat and pressure. As with any printing process, there are pros and cons to selecting digital thermal printing.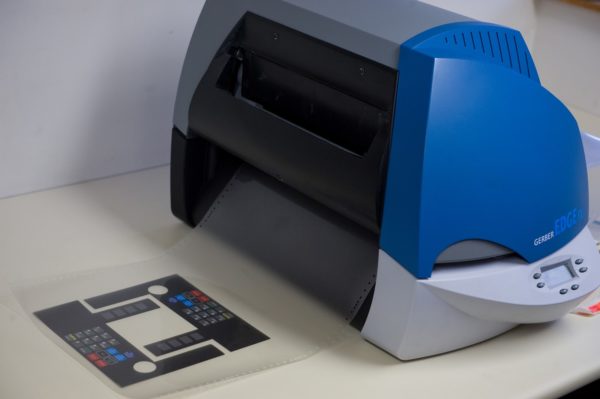 "Digital thermal printing" is also called "thermal transfer" or "gerber" printing, because the most common machine used is Gerber brand.
Benefits of digital thermal printing
Due to the fusing process, pieces that undergo digital thermal printing are fade-resistant for up to five years—and that's without lamination. By comparison, solvent ink-printed pieces would last three years at most without lamination. In fact, some customers have even reported that their pieces printed with thermal transfer have lasted more than a decade if they're not exposed to direct sunlight, harsh weather, or chemicals.
Digital thermal printing gives superior accuracy and tight tolerances.
The process doesn't require outgassing (which can cause splotches days after lamination if not done properly) or curing times (which can slow down the production process). For example, a project that takes three days with a traditional digital printing method—which is enough time for outgassing to occur—would take just one day with digital thermal printing.
Digital thermal printing works on a variety of materials, including polyester and tamper-evident materials. It can also be used for subsurface (on the underside of a clear, plastic film) overlays on both polycarbonate and polyester.
It also gives a variety of color options not available with some digital solvent printers, including metallic, white, and transparent. Transparent options can even provide the same finish as a screen-printed clear coat.
Because the process can generate sequential numbering (printing sequential ID numbers so each unit has a unique number) and different barcode types within the printer's software, thermal transfer can cut costs on creating label art with variable measurements.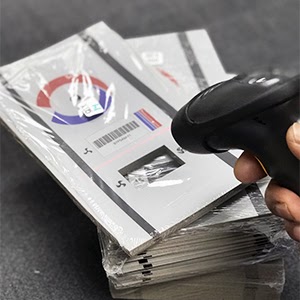 Using barcodes can be a valuable tool when tracking inventory or part batches.
Because the process uses thin spot-color foils, it won't leave halos or lifting around ink during lamination. By comparison, digital flatbed printing uses thick textured ink and can sometimes leave a halo, or lifted lamination around the ink on laminated decals.
The process can print 70 spot colors, and many are more vibrant than traditional digital, four-color process printing allows. It can create more than 3,000 color combinations by printing one or more spot color foils on top of one another.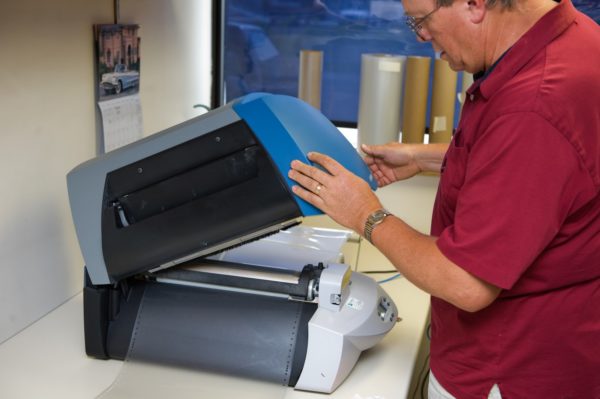 Holes are punched into the edges of each material roll to help align the parts on the material as it prints, allowing the press to hold tight tolerances.
Drawbacks to digital thermal printing
The process does have some size limitations, so it wouldn't work with large projects. The material can't be wider than 15 inches, the printing can cover a width of 11.8 inches at most, and the material can be cut no wider than 13 inches.
Some fine or very small copy should not be printed with this method, which can make text grainy and some barcodes unscannable.
Color matching is somewhat limited because the process can print using only the spot colors provided by the foil manufacturer.
Because the process prints each color one at a time, parts with many different colors will take longer, and the project will be more expensive.
The process may not make financial sense for projects that require a small bit of color, which is priced per linear usage of foil material, not by area. That means if an image required only a tiny dot of orange, for example, the printing cost would be the same as if the material needed to be covered in solid orange.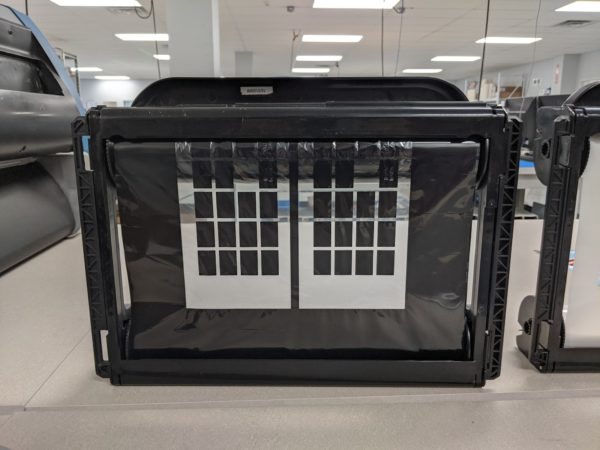 A used black foil cartridge. The clear areas represent where the black foil was transferred onto material.
Still curious if thermal printing is the best fit for your project? Looking for more information or interested in switching from one process to the other? Checkout our YouTube video on Digital Thermal Printing, or give us a shout at Graphics Output. You can contact us online, shoot us an email, or call 260-748-0577.