Ensure your artwork is print-ready
When working with a printer, there are some simple tips you can follow to ensure your products are produced quickly and correctly—all while saving time and revision charges. While much of this information is universal, this blog is written from the perspective of a commercial printer that specializes in providing labels and graphics for OEM manufacturers.
Blueprint/Engineer Drawings
Well-organized and accurate blueprints, graphic and art files will eliminate design charges, costly reprints, and production hiccups. Whenever possible, you should give blueprints or engineering drawings AND a graphic file to the printer. Files should always reference necessary information for quoting and production, such as the following:
Size
Materials, including base material and adhesive and lamination, when applicable
Printing process, such as screen print or thermal digital
Specific colors, including PMS callouts
Any other details that are important to the production process, which may include embossing, clear windows, specialty finishing and premasking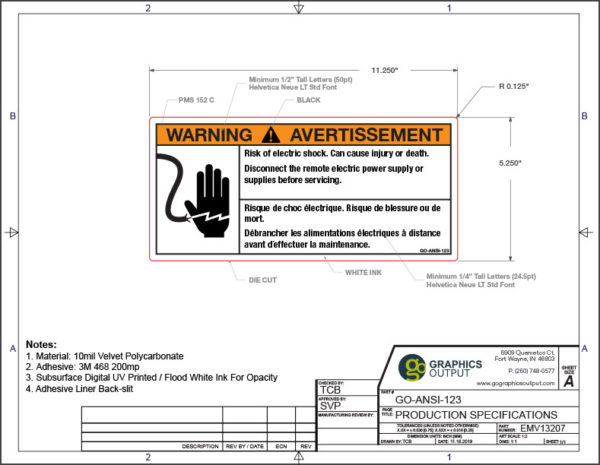 Graphic File
A vector-based graphic file designed in coordination with the blueprint should accompany the blueprint. Specialty printers like us prefer using the original or native files because it gives us the opportunity to create production files based on our own production process. The more complex the print job, the more important this step becomes.


These are the details we need in your graphic file:
Size, colors, cut lines and specialty finishing—such as selective adhesive—should be defined in the artwork using different layers.
The artwork file should be packaged with fonts and linked images; or fonts should be outlined, and images should be embedded.
When possible, linked and embedded images should also be vector-based. Vector-based art is flexible, versatile and easy-to-scale. Plus, there's no upper or lower sizing limits.
Proofing
Production artists dissect your artwork file and thoroughly compare it to all the dimensions and callouts in the blueprint. The artists then prep the artwork for the production process and create a soft digital proof.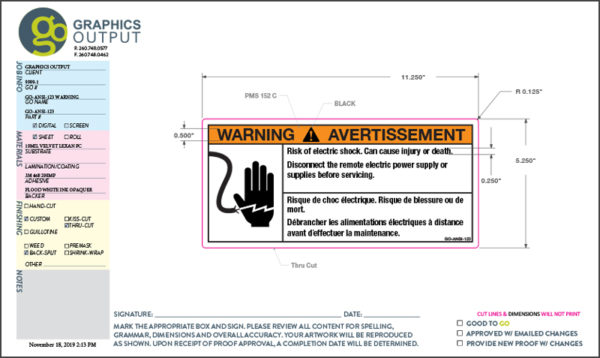 You can help us eliminate delays and multiple proofs in a few simple ways:
Ensure your graphic files match the accompanying blueprint before you send the files.
Review the soft digital proof closely against the blueprint for accuracy, and remember to double check for spelling errors, dimensions, and color callouts.
If needed, request parts for first article samples or production part approval process for final approval.
With a little preplanning, we can help your next print job run as smoothly as possible. If you have any questions, don't hesitate to reach out to Graphics Output. Email sales@gographicsoutput.com to ask a question or schedule an appointment, or call 260-748-0577.