Where do I start?
If your company frequently orders graphics, decals, or labels, check out this helpful advice.
Efficient updating of your engineering drawings will save time, energy, and money. Drawings that are not updated in an appropriate manner often lead to problems internally and externally. Confusion on revision levels and quality issues are often the result of outdated drawings. Label failure from wrong materials being used can be a major concern, too. If misinformation is provided to vendors, you may receive incorrect pricing, improper build, or a non-compliance safety fine (ANSI, RVIA, NM-MA, NSF, UL).
When should I update my drawings?
An audit should be completed for each part at least once per year. Drawings should also be updated when any process changes occur including:
Art changes, such as changing an approved color
Material changes, such as changing an adhesive type
Part production changes, such as revising a size
Final assembly changes, such as adding paint to a previously unpainted application surface
Company standard changes, such as new quality control tolerances
Compliance changes, such as new ANSI-ISO standards
Revision level changes, whenever ANY change occurs that affects the construction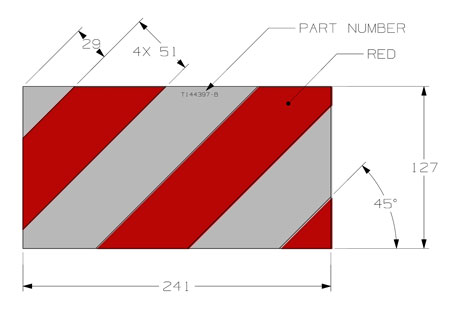 What other information might be missing on my drawings?
Drawings can sometimes lack specific information that vendors need. Make sure to include these sometimes missed details:
Company approved PMS colors
Material specs, such as required life-expectancies
Approved material types when possible (i.e. '3M 220 Scotchcal')
Size tolerances for cut lines
Emboss types, required depth, and depth tolerance (i.e. '0.020" dome emboss')
Quality Control or Inspection Criteria (i.e. 'Each part to contain no more than 1 flaw 1/16" or smaller within a 3″x3″ area)
How can I stay on top of all of these changes?
Many different methods can be used to help you keep track including:
Engineer Change Notices (ECN's)
Production Part Approval Process (PPAP) submissions
Initial Sample Inspection Report (ISIR) forms to internal and vendor quality departments
Using vendor proofs in final drawings
Linking vendor proofs to final drawings
Outsourcing annual audits to vendor
Outsourcing drawing management to vendor
Who can I go to if I need help?
Graphics Output works daily with numerous art files and engineering drawings. If you do not feel comfortable or confident with auditing your graphic specific drawings, we can help. Outsourcing your yearly audits or all of your art/drawing management may be the solution for you. As your one-stop for graphics specific drawing management needs, Graphics Output will make sure that your graphic blueprints are updated to the highest standards.