Some graphics need to withstand high temperatures. Consider labels on an oven, under the hood of a vehicle, or even on a satellite. It's vital that these labels are durable and able to withstand high-temp placement because they may share important safety product identification. Label material should always be carefully selected to ensure decals can handle the heat without distorting, becoming illegible, falling off, melting, or even disintegrating completely.
Building Decals for High Temperatures
The builds for high-temp graphics and labels are pretty standard across the print industry. The main substrates of choice include polyester, various flame retardant materials, and metal.
Polyester
Polyester is generally considered the best material for decals that need to withstand up to 300 degrees Fahrenheit because of its high dimensional stability and remarkable thermal stability at both high and low temperatures. It comes in both rigid and flexible varieties. While polyester works well as a base substrate, it can also be used as an over-laminate to slow the fading of colors from UV light.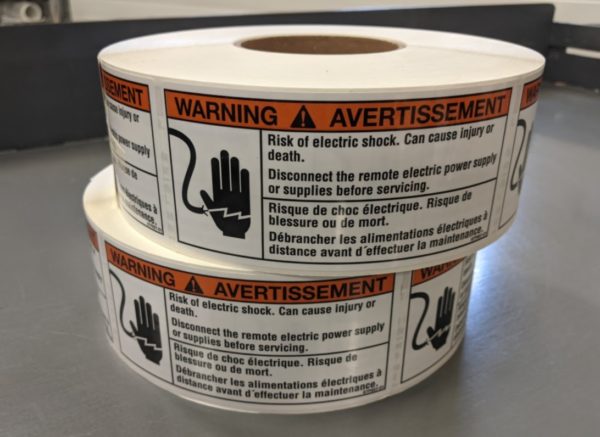 Most labels that can withstand high temperatures are printed via thermal roll printing because the ink is also made to withstand higher temperatures.
Flame-Retardant Materials
Flame- or fire-retardant materials are intended to prevent fires and limit their spread. They're designed to burn slowly, providing additional time to put out fires that do occur.
One example: flame-retardant polycarbonate. Though traditional polycarbonate is not a good choice for high-heat applications, the material offers both impact resistance and a variety of finishes and textures for graphic overlays. Because of those benefits, flame-retardant polycarbonate was created for high-temperature situations including the aerospace and hazardous environment control industries.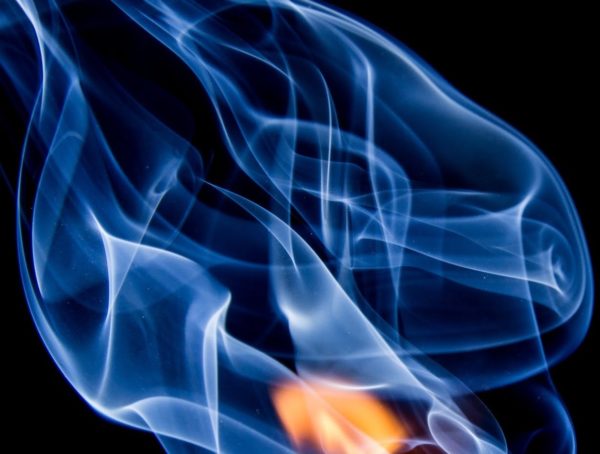 Products include flammability ratings to help customers select the right material for their high-temperature needs.
PRO TIP:   Acrylic or silicone adhesives typically have a higher melting point than rubber adhesives, though that can vary by manufacturer and product line. Ask for a spec sheet of your potential decal material to confirm that the base substrate and adhesive can withstand the necessary temperatures.
Metal
When exposing labels to high temps, sometimes, decals just won't cut it. Metal nameplates are used in the aerospace and defense industries, and also often found on firepit rings and burn barrels. Metal nameplates can be fabricated in almost any shape and enhanced with etched, stamped, or printed graphics.
When exposed to extreme heat, adhesive can get messy and may not secure to heavy metals. As a result, most metal nameplates and badges exposed to high heat are manufactured with holes or other elements so users can attach the plates with rivets or screws. This creates a foolproof way to secure nameplates exactly where they belong.
There are a few common options for metal nameplates: Metalphoto®, aluminum, and stainless steel.
Metalphoto® anodized aluminum labels and nameplates are ideal for applications with temperature requirements up to 1200 degrees Fahrenheit. Metalphoto® graphic images, which can include serial numbers and barcodes, are photographic in quality and sealed beneath an impenetrable sapphire-hard anodic layer. This results in extremely durable and temperature-resistant metal labels with an expected outdoor life span of 20 years or more. Because of the high amount of production that goes into these, they are most cost-effective for small to medium volumes.

Breakdown of Metalphoto® nameplate layers
Aluminum is versatile, lightweight, and durable. It is incredibly resistant to outside elements, heat, and chemicals.
Steel is even sturdier than aluminum, but considerably heavier. It, too, is resistant to outside elements, heat, and chemicals.
Protecting Decals in High Temperatures
All decals, even those built for indoor, non-heat exposed applications, may sometimes be exposed to higher temps, such as a sweltering August day or a building with broken air conditioning. Most decals will hold up to small bouts of heat, but you can do a few things to minimize heat damage to your graphics.
Get them in the shade
Graphics applied to an object that can be relocated out of direct sunlight (like a car or trailer) should be moved to the shade, such as in a garage or covered carport or under a tree.
NOTE: Do not place items with decals inside an enclosed metal space, such as a storage container. These spaces act as ovens and can turn your deals into bubbly, melted messes.
Just as a fan can keep you cool in the heat, air circulation can keep decals cool and prevent adhesive from melting. Decals in storage that have not yet been applied should be stored in a refrigerator or freezer to keep the adhesive from turning to ooze. Remember that cold adhesive makes adhesion difficult, so graphics should always be warmed back up prior to application.
Keep graphics clean
Heat can bake dirt, dust, and other airborne pollutants into your decal, giving the decal the appearance of a black dust stain. If appearance is pivotal, take a few minutes to wipe off any visible dirt from decals. Gently hand wash decals regularly to avoid a grime buildup and the risk of stains.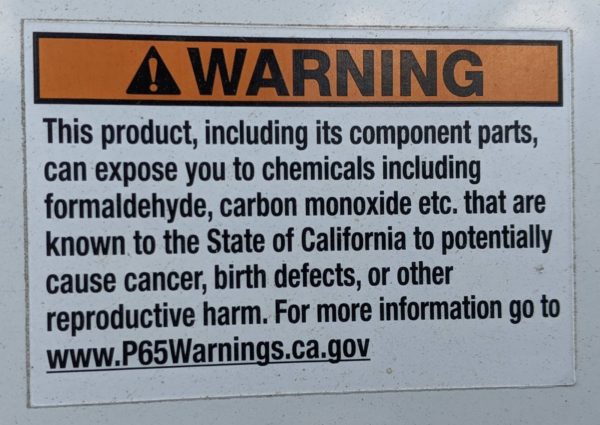 Dirt and dust can bake into vinyl and stain decals permanently if not cleaned often enough.
The best way to protect graphics from heat damage is to build them right from the start. Still unsure of which material is best suited for your high-temp application? Let the trained professionals at Graphics Output help you out. Simply email sales@gographicsoutput.com, or give us a call at 260-748-0577.