Options, options, and more options: That's what you get with graphic overlays. Just as every product line has different buttons, switches, and readouts, your overlay can use any combination of layers. These include the base material, the ink, and the adhesive. Familiarizing yourself with the construction of an overlay can help when designing new ones or discussing a quote with your graphics supplier.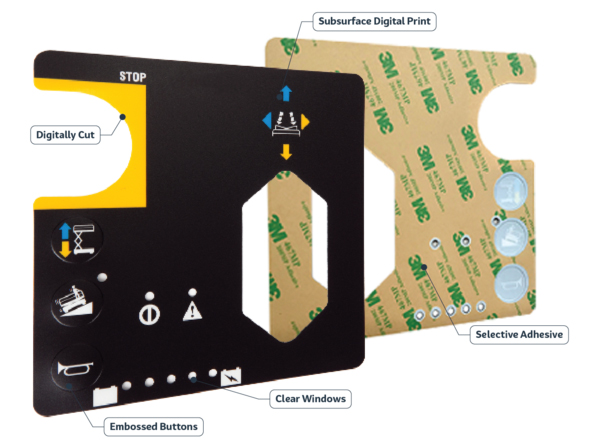 A diagram illustrating basic features found in many graphic overlays.

Base Material
When designing a graphic overlay, the first thing to choose is the type of material that is best for your project; polycarbonate and polyester are the two most common. Polyester is best for long-term use and polycarbonate is ideal for applications where appearance or cost is most important. For a more in-depth comparison of these two materials, check out our Polycarb vs Polyester post.
Vinyl is a less common material to use. A vinyl overlay functions more as a label than an overlay for mechanical switches or LED indicators, but it can be a cost-effective option depending on your needs.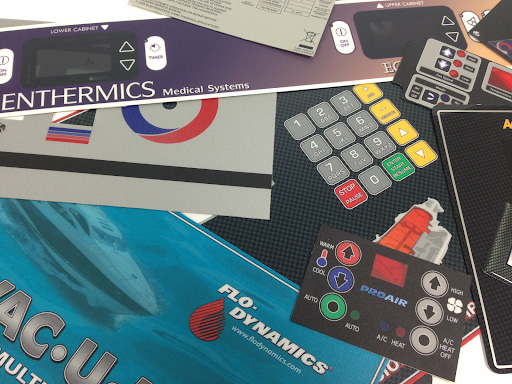 Overlays are produced in all shapes, sizes, and materials.
After selecting a material type, consider the finish and texture. Finishes can be gloss or matte and come in a variety of textures, including fine, suede, and velvet. Textures increase abrasion-resistance and can reduce glare. In most cases, they also can change the color of the overlays, unless you select a clear texture.
The last details to consider for overlay materials are thickness and embossing. Standard thicknesses for polycarbonate and polyester range from 5 to 20 millimeters. Thicker material increases durability, but is more expensive and may hinder the ability of the material to flex when a switch underneath is pressed. Keep in mind emboss height is determined by base material, usually 1½ times the thickness of the base material.
Ink
Polyester or polycarbonate overlays use subsurface (or second-surface) printing. This occurs when a mirrored graphic is printed on a clear material. When the material is flipped over, a perfect design remains under the material, and the design is very protected from the elements.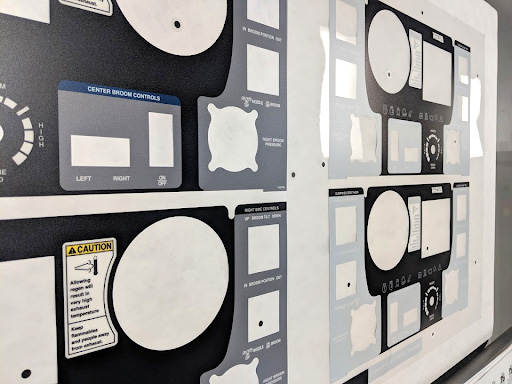 A subsurface-printed part, showing both sides of the material. The left is the first surface, which the end user will interact with. The right is the subsurface, which is the side the ink was printed onto, and the side to which adhesive will be applied.

Subsurface printing is not the only type of printing available for graphic overlays. Other options include clear or translucent windows and selective textures.
Windows are often referred to as negative space when printing, but the term also can reference areas that have been subsurface printed with transparent or translucent ink. Windows can also include a selective gloss ink that smooths over a textured material and makes it completely clear.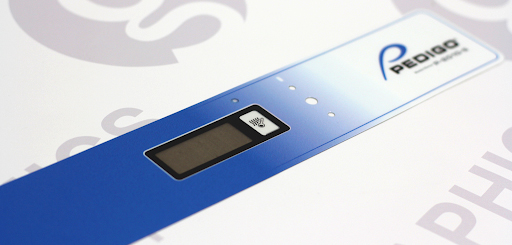 The window in this overlay has been printed over with a transparent grey ink.

Selective textures do the exact opposite of windows. Paired with a smooth, non-textured material, selective textures use a first-surface printed and UV-cured texture on specific areas of an overlay. This may be everywhere except, for example, a glossy window or the arrows of a button to help a product operator find the right key by its tactile feel.
Adhesive
The final layer of a graphic overlay is the adhesive. The strength and thickness necessary for your adhesive will be determined by what you apply your graphic to. For example an overlay on a smooth, powder-coated metal will need a very different adhesive than one applying to a heavily textured plastic. The cut of the adhesive is just as important as the adhesive itself. Selective adhesive is used to create adhesive-free spaces for embossed buttons and windows. Back-splitting the adhesive, a cut though its liner that lets you peel back one side of the liner, will make your overlays easier to apply. Back-splitting allows easier alignment so the decal doesn't get stuck in the wrong place.
Your graphics supplier should know from your job specifications which overlay options are right for you. For more information on a specific layer or overlay option, reach out to Graphics Output by email or web, or call 260-748-0577.